NOVEMBER 2014
Where Have All The Flowers Gone?
Arc, Stockton
Tuesday 11 November 8pm (Running Time 90 minutes)
Tickets £7, £5
In June and August of this year, two amazing, separate but very much related World War 1 commemorative events were created in Stockton.
Lest We Forget was a performance created for and performed in the central library. Based on the research and findings of young and older participants, songwriters translated stories of love, life and death into an evening that was emotional and at times devastating as it was knitted together and performed within a narrative produced by Gordon Steel. Stockton Town Choir, Infant Hercules and an ensemble of musicians and singers led by Mike McGrother created an evocative, thought provoking soundtrack featuring the compositions of members of bands such as The Wonderstuff, The Levellers, Young Rebel Set and Mike's own Wildcats of Kilkenny.
Several weeks later, much of the same creative team came together to conclude the extraordinary year long 1245 Sunflowers project with yet more music, words, lights and many, many flowers as Stockton marked the 100 year anniversary of Britain's entry into war in quite the most remarkable way.
Tonight, both projects will be brought together as an act of remembrance and a retrospective look at how Stockton paid its respects in 2014. With an abridged performance of Lest We Forget; film, sounds and images of 1245 Sunflowers and a Q&A session with some of the projects' key protagonists, Where Have All the Flowers Gone? promises to ensure that just as we proved in the Summer, Stockton will continue to remember the community that never came home.
AUGUST 2014
August 4th 2014 marks the 100th anniversary of Britain joining World War One.

On that day, the days leading up to it, and following, we ask you to join us in remembering the young Stockton lives that were lost and the sacrifice of the 1,245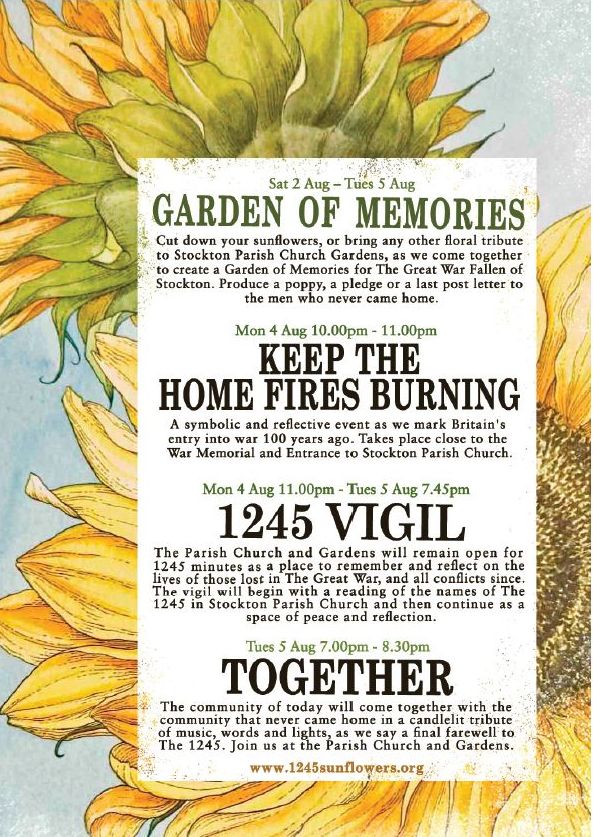 Saturday 2nd August – Monday 4th August
Everyone is encouraged to bring their sunflowers (however big or small, fully grown or not) and tags to Stockton Parish Church throughout the weekend and add them to a display being created in the Parish Gardens.
The town's Book of Remembrance will be displayed in the church foyer with the opportunity for quiet reflection in the church and around the gardens.
Poppy making activities will be available throughout the weekend. Each will then be used to link the Book of Remembrance with our Sunflowers.

Monday 4th August
"Keep the Homefires Burning"

A late night vigil to mark the 100th anniversary of Stockton, and the rest of the country,
entering World War One.
From 10.00pm
Gardens are open and you are welcome to come and spend some reflective time with us and each other.


11.00pm
The Parish Church bells are rung and a Homefire flame is lit. Stockton's Infant Hercules choir will sing as the Book of Remembrance will be carried into the Church.


11.10pm – 2.30am
The names of the 1,245 men and boys listed in the Book of Remembrance are read out loud and remembered by volunteers from across the community.
Tuesday 5th August
9am – 6pm
Volunteers and local artists will be creating installations to celebrate the lives of the Fallen. These will create a physical link – a 'stalk' - between the Book of Remembrance on the church altar and the outside Gardens. Installations will contain writings, images, sounds, films, lighting and projection.

There will be opportunities to make poppies to be illuminated and to link the Book of Remembrance to the Garden.
The Thomas' Hughes Garden will be created – a collection of 'Last Post' letters and messages in bottles written and created by Stockton's children to the 1,245.
7pm – 10pm
"Together"
The community of now and the community that never came home are remembered
in a tribute of reflection and respect.
7.00pm
Gardens open

7.10pm – 7.30pm

Music of the World War One era performed by North Skelton Brass Band.
7.30pm – 7.45pm
Communal Singing led by Stockton's Town Choir.
7.45pm – 7.55pm

Lighting of a Candle for the unknown soldier and a period of reflection.
7.55pm – 8.30pm

Candlelit vigil with live music and communal singing, compered by Peter Barron, Editor of The Northern Echo, ending with a sounding of The Last Post.
8.30pm – 10pm

Gardens remain open for reflection and contemplation.
There will be an informal opportunity to come together and share your experiences and participation in
1,245 Sunflowers in The Storytellers Pub, Dovecot Street from 9pm.
JUNE 2014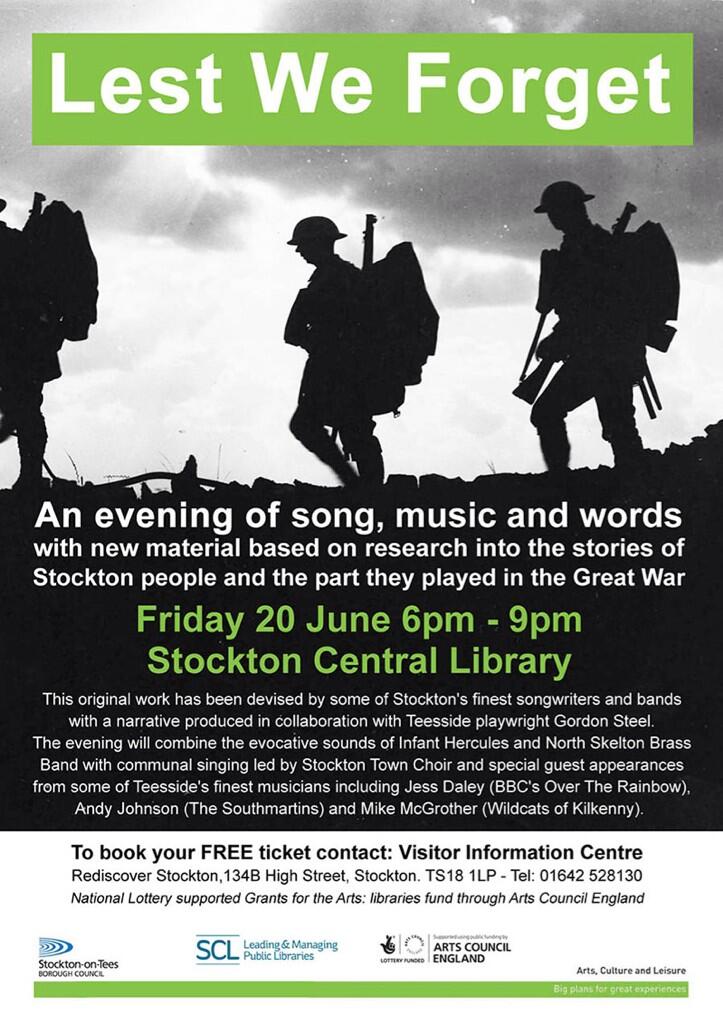 People will be asked to bring their sunflowers to Stockton's Parish Gardens over the weekend of 2 and 3 August.
The project will conclude with a final tribute beginning on Monday 4 August, the 100th anniversary of the start of the First World War.
A special reflective vigil will begin at 11pm, lasting for 1,245 minutes before ending with a community led tribute for the fallen soldiers at 7.45pm on Tuesday 5 August.
- See more at: http://www.stockton.gov.uk/news/localnews/year2014/april/ww1sunflowers#sthash.OsBAjyYz.gbR2cacr.dpuf